Cisco Multicloud Portfolio Enablement
Description
FOR CISCO AND CISCO PARTNER TEAMS. Cisco's Multicloud Portfolio is a framework to rapidly enable customers to design, deploy and optimize multiple cloud environments. This three-day ILT course will introduce technical Sales Teams to this Portfolio, and prepare them to introduce it to their customers' networks. Students will get hands-on practice in a live lab environment. THIS CLASS IS DESIGNED FOR CISCO AND CISCO PARTNER TEAMS. A cisco.com or partner email address will be required for attendance.

Prerequisites
Good grasp of networking concepts
Fundamental understanding of network protocols
Willingness to learn something new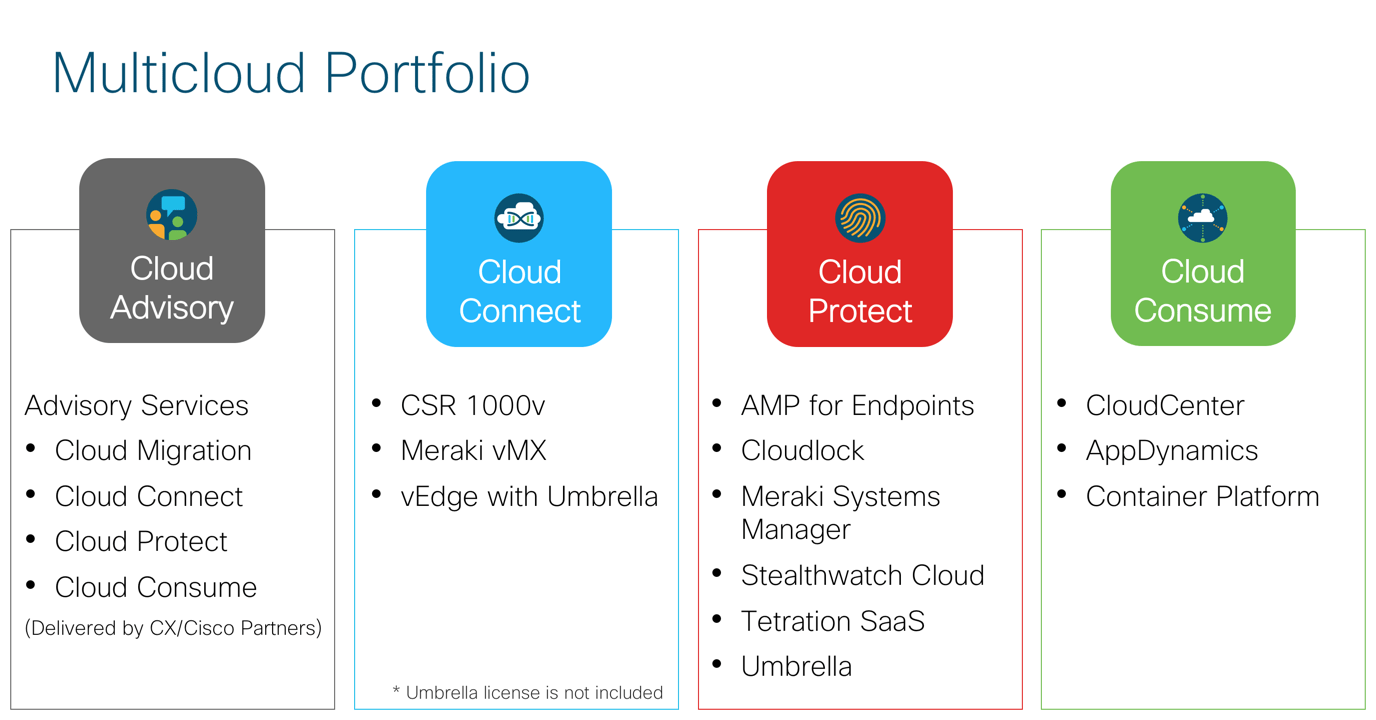 After the course attendees will be able to:

Describe the components of the Cisco Multicloud Portfolio
Understand the value propositions for each component
Configure each component in a production network
Describe the technical sales process for Multicloud
Use the various design and demand-generation tools to support a Multicloud practice
Understand how to position and sell Cisco's Multicloud Portfolio
Technical Sales Teams
Network Engineers
Systems Engineers
Solution Architects
Systems Integrators
Data Center & Cloud Infrastructure Engineers
Network Engineers
DevOps Teams
Lecture + Hands-on Lab
In-Person Delivery
Live via WebEx
Module 1: Introduction / Agenda / Logistics

Module 2: Multicloud Introduction
Module 3: Cloud Connect
Overview
CSR 1000v with Lab
Meraki vMX with Lab
vEdge with Umbrella with lab
Module 4: Cloud Protect
Overview
AMP for Endpoints with Lab
Cloudlock with Lab
Meraki Systems Manager with Lab
Stealthwatch Cloud with Lab
Tetration Saas with Lab
Umbrella with Lab
Module 5: Cloud Consume
CloudCenter Suite with Lab
AppDynsmis with Lab
Container Platform
Module 6: Cloud Consume
Offerings
Cloud Advisory for Partners Framework - tools for success
Module 7: Sales Process
IDC Primary Research
Multicloud Advisor Tool with Lab
Workshops & Engagements
Module 99: Cisco Multicloud Review
BTA is un-rivaled when it comes to getting complex DC ideas across to a technical audience.

Great teaching! Complexity simplified!

Best training experience by far, "A" rating end to end from the material, the way it was delivered, the trainer was amazing, a true expert and professional.

Outstanding instructor, fantastic venue, rock-solid lab with great exercises! All-around top-notch training experience - good job, everyone.

The instructor was excellent. Field experience showed and real-world example and problems are most useful.

One of the best courses I've taken.

The troubleshooting sessions were awesome.

The instructor understood our knowledge level entering the class and modified accordingly. Much appreciated.